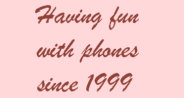 Vintage Telephones For Sale
Welcome to the largest selection of original Ericofons and vintage telephones, on-line or off. You will not find any fakes, reproductions, look-alike, or any other kind of knock off here.
When restoring these telephones, I only do what would have been correct from the factory. I don't use any aftermarket or reproduction parts other than replacing bad cords and/or gaskets when necessary. All phones are 100% original as they would have come out of the factory.
Just select the catalog pages on the left to get started.
All phones for sale are refurbished and in "like new" condition (unless otherwise noted).

All phones for sale are ready to plug in and use.
When you see this icon: Click on it to hear the phone you are looking at ring.

If you wish to pay by check, please e-mail me so we can make necessary arrangements.