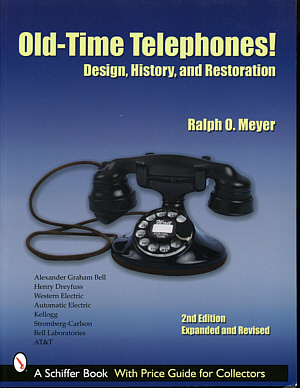 A few years ago, Ralph Meyer put out the book "Old Time Telephones", and it's been (in my opinion) one of the greatest books, if not THE greatest book written about telephone design, history, and restoration. I use the book all the time for reference.
Now, he's come out with a 2nd edition, and I like it so much, I asked if I could sell it on my web site. Well...here it is. The price is $29.95 and shipping is $2.00 for media mail, within the USA. If you live outside the USA, figure on two pounds for shipping and add that to the $29.95 price.

Here's a brief description of the book by the publisher:

123 black and white photos and 176 patent drawing, charts, diagrams, and schematics trace a century's development of telephones, from Alexander Graham Bell's first phone of 1876 to Trimline models from Western Electric. This valuable reference also provides technical information about their electrical circuitry and electrical measurements required to successfully repair, restore, and maintain a collection.
Also included are a bibliography, an index, and a price guide for the telephones displayed. This reference is essential for every serious telephone collector, dealer, and restorer.
$29.95 + $4.00 Shipping